Branding Your Business

When you start or are revamping your business, branding is essential to consider. Whether you are a one-person operation or a large corporation, identity is important. Today, we are going to go over why branding is important, what items should be considered for branding, logos, and where to find help.
Why Branding is Important for Businesses
Branding is the foundation of the representation of your business. When businesses are branded, they feel more legitimate, are trusted more by first time visitors, and often compel people to feel as though they are getting a higher-end experience. This higher-end experience raises the perceived value of the consumer. The service you may be providing may be the same, but with branding in place, the business is perceived as elevated.

Branding also differentiates from competition. A business owner should take on the task of having all branding uniformly communicate what the business is about and what value it is providing. Branding a business presents an experience to the customer. This is why narrowing down what your business is and creating a profile representing your ideal customer is essential.
If you are unsure on how to go about creating a snapshot like this with your business, consider searching the topic of business plans or customer profile. If you need a bit more help sorting this through, the SCORE organization through the Small Business Association provides free mentorships for small business owners.
Considerations for Branding
Once you navigate through creating a brief summation of your business core values and an ideal customer profile, you can think a bit more about branding your business. Most people think about business cards or a logo in general, but there are some other aspects to consider:
-Any decals for doors or windows
-Embroidery on shirts
-Business cards
-Letter head
-Social Media headers
-Website
-Literature
-Logos
-Your place of business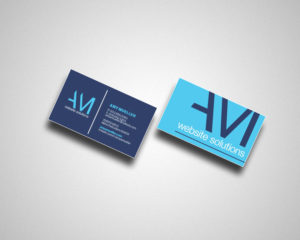 All of these items must work together to present one unified front. When a person searches your business online, drives by you building, or sees a pamphlet they must quickly interpret that it is your brand. The colors, styling, written content, and logo must be consistent. That is not to say that all must be identical, but they have to feel like part of a consistent collection and belong together. It is that feel that makes a business feel branded.
Branding and Logos
When a designer creates a logo, they consider a lot of applications. They want to know if you logo looks great as both a favicon (the teeny-tiny picture on the browser tab) all the way up to a huge banner. A good logo will translate to many applications. It is also why most good designers will not incorporate many colors or thin lines within a logo. They know that with additional colors comes additional costs of printing for the business owner. They also know that while thin lines within a logo may look okay in a small format, the logo would have to be reworked for a larger item.
Save yourself some money and ensure that all your logos are applicable for many sizes and able to save on printing.
Where to find help
Branding can be a large process, but it pays off to have that added perceived value to your business. There are numerous tutorials online that can be searched about branding, good logos, typography, and social media marketing.
Keep in mind, however, that perhaps your time would be better invested doing what you do well and outsourcing at least some of the items. To have a truly polished brand product, a designer will work together with a team to create a comprehensive Style Guide to be implemented for every aspect of your business so your brand is always one unified front.
If that doesn't sit within your budget, consider hiring out for your logo or proper social media banners that are not pixelated and that represent your brand well. If you need some direction on who to connect with for any of these steps, feel free to reach out to me.